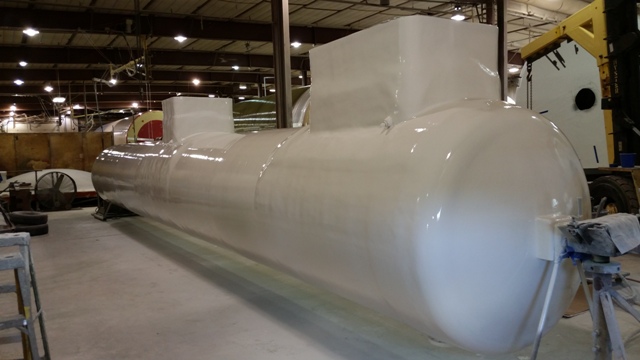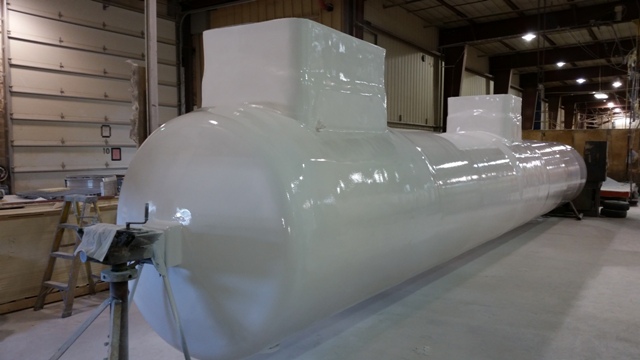 Surplus Tank for Sale
Could be used for many different applications. It was originally designed for tank truck hauling of hazardous materials. This tank could be used on a tanker trailer, or a fixed tank above ground or below ground. GPI can modify if needed by purchaser. This tank would be suitable for many materials contact Brian Zinser at GPI 715-359-6123 to verify your material is compatible.
This is a new tank never been put into service.
We are the manufacturer we can modify this unit to suit your needs.
Any Questions on: Pricing, shipping, or cost for modifications Contact Sales 715-369-6123 or [email protected]
The specifications of this tank are as follows.
5,400 gallon capacity
58" diameter x 457" side sheet
(2) Top spill boxes
(1) 18" diameter quick access manway
(1) 3" diameter flanged fitting (top)
(1) 3 1/2" diameter flanged fitting (top)
(1) 4" diameter flanged fitting drain (bottom)
Exterior white gel coat with UV inhibitor
DOT 49 CFR 178.345-3, 49 CFR 178.345-8, TTMA RP 96-01 design
Rated for Vacuum and Pressure: +35/-14.7 PSIG rating
Length approximately: 482"
Diameter/width approximately: 61"
Height from top of spill box to bottom of the flange fitting drain approximately: 88.25"
Drain flanged fitting extension: 4"
This FRP tank is intended to transport products authorized by the Hazardous Material Table (49 CFR 172.102) and compatible with the inner corrosion barrier employed.
The liner/Corrosion barrier is a FRP laminate from one ply of Vinyl Ester Resin saturated C-glass veil against the process surface. The resin-rich veil ply of the corrosion barrier contains approximately 90% resin by weight, making them effective barriers to permeation and corrosion. Veil is followed by chopped strand mat and resin. This second layer contains about 70% -75% Vinyl Ester Resin by weight, and also functions as a permeation and corrosion barrier. The high resin content of the corrosion barrier effectively shields the structural laminate from chemical attack.