Mission
---
GPI's mission is to design and manufacture superior quality composite tanks and custom molded products while providing value to our customers. We strive to exceed our customer's expectations on quality, service and delivery time.
---
Experience
With over 50 years in the composites industry, GPI has the experience to meet the challenges of your storage or process system project. Our engineering team has decades of experience specific to the composites industry, providing a depth of knowledge of the material and the unique demands of manufacturing with composites. Our team has developed several design innovations along with many innovative manufacturing techniques.
Our specialty is in designing and manufacturing large, complex vessels, often for highly aggressive services. GPI has manufactured tanks and custom fiberglass components for market segments ranging from biofuel power generation to food processing to agricultural applications. We have shipped products to all corners of the United States as well as Canada, Hungary, Portugal and the Canary Islands. Our customers range from Fortune 500 companies to innovative start-ups in pollution control and power generation.
---
Quality Assurance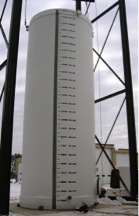 Our extensive quality control program monitors the entire manufacturing process, from testing of all incoming resins and materials to inspecting vessels throughout the manufacturing process. We construct all of our tanks according to the highest industry standards, including ASTM 3299 and RTP 1.
We inspect, monitor and record QC data at multiple steps in the manufacturing process. After construction, the tank shell is measured for thickness in multiple locations, ensuring a uniform product that meets the specified design requirements. The hardness of the composite matrix is also measured at multiple locations, ensuring a complete exothermic reaction.
After construction of the tank shell, all of the tank accessories (fittings, manways, nozzles, ladders, etc.) are precisely located using laser alignment. This guarantees the proper orientation of accessories on the vessel wall ensuring the alignment with external components. GPI also has a dedicated 70' tower and tank pad, providing the capability to hydro test your vessel before it leaves our facility.
---
Our History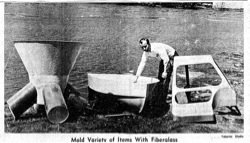 GPI was formed in 1963 as a small fiberglass boat manufacturer in Schofield, WI. In 1967, George and Mary Ann Zinser purchased GPI. George, a graduate in mechanical engineering from the Milwaukee School of Engineering, transformed the company from manufacturing boats to producing industrial tanks and custom composite products.
To meet the demand for constructing larger diameter vessels, in 1984 GPI constructed a new facility in the Schofield Industrial Complex. After several expansions, our 30,000 square foot facility is large enough to manufacture 17' diameter tanks in a single piece. Today, owners and brothers Brian and Kevin Zinser continue to build on the GPI tradition by aggressively targeting new markets and products and pushing the envelope of composites manufacturing.